Visit Starbucks and 'Pass the Cheer!'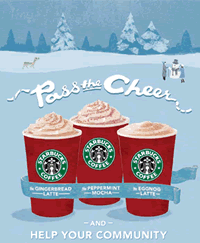 All of us at Starbucks are excited to launch our new partnership with Modest Needs Foundation this Holiday Season in all of our Mid-Atlantic stores.
On November 8, 23, 26 and December 8, 15 and 22, fuel up on a Gingerbread Latte, Eggnog Latte or Peppermint Mocha and share in the season of giving. With every purchase of these seasonal favorites, Starbucks will pass the cheer by donating a portion of the purchase price back to Modest Needs Foundation.
With your help, we hope to make this holiday season much more cheerful for low-income workers who need our support the most, particularly at this time of year.
To see local grants funded through our partnership and your support, click here and look for the 'Starbucks' logo.
We look forward to seeing you in our stores and thank you for your support of Modest Needs. Happy Holidays!
The easiest way to support Modest Needs is by making a donation right here, via our website. The secure donation form on this page will allow you to make the gift or pledge of your choice with any credit or debit card. Or, if you prefer, you can write an 'eCheck' (but please keep in mind that the fees associated with eChecks make them the most expensive way - for us - that you can support Modest Needs.)
To protect your personal information, our online donation system secured by state-of-the-art digital certificates and powered by Bank of America and Authorize.net, the industry leaders in secure online payments.
Don't forget: Every time you make a tax-deductible contribution to Modest Needs, we credit your account with Modest Needs points. You get one point for every dollar you contribute on a one-time basis, or - thanks to a matching grant - 2 points for every dollar you contribute on a weekly, bi-weekly, or monthly basis throughout 2007.
You can either invest your points directly in the grant applications that you find most compelling, or you can use them to create
Modest Needs Gift Certificates
.
Need to update a current pledge?

Just use the form above to create a new pledge and enter your updated payment information. When you're done, click 'Proceed' and follow the instructions in the pop-up box that will appear for you. It couldn't be any simpler!


Need to cancel a current pledge?

Please send your request to donor.supportmodestneeds.org or telephone (212) 463-7042, 15. We'll process your request immediately.


Need help using this form or contributing to Modest Needs?

Please write to us and tell us how we can help, or, for immediate assistance, please call (212)463-7042, ext.15.


If you'd like more information about our past years' financial activities before making a contribution, we invite you to review our online Annual Reports (available from 2005 forward), or to view our profile at Guidestar.org, the national database of non-profit organizations.
Thank you for your support of Modest Needs. Without you, this work would not be possible.